We have to the tools and the knowledge to end the lead poisoning epidemic. Now we just need the resources.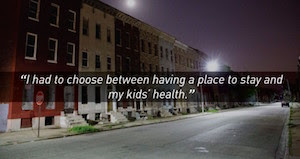 Tell Congress to pass the Lead-Safe Housing for Kids Act of 2016.
Every family deserves a safe and healthy home. Across the country children are in peril, especially the 4 million living in federally assisted housing. They are being lead poisoned and faulty, inefficient, and antiquated policies don't trigger action until it's too late. The Lead-Safe Housing for Kids Act of 2016 will give the U.S. Department of Housing and Urban Development (HUD) the long overdue authority it needs to update their standards to ensure that all HUD-assisted, taxpayer-funded housing is free of lead, while also supporting low-income families who have been harmed.1
That's why ColorOfChange is partnering with the Health Justice Project, Sargent Shriver National Center on Poverty Law, Green & Healthy Homes Initiative and other groups across the country to hold decision-makers accountable. Thanks to your support, HUD has proposed a rule that will finally bring their definition of lead poisoning in line with the Centers for Disease Control and Prevention (CDC) standard. But it's not enough to prevent more lead poisoning in the future. Yet HUD's hands are tied until Congress takes action, despite their best efforts so far.
Tell Congress to pass the Lead-Safe Housing for Kids Act of 2016
Without the Lead-Safe Housing for Kids Act of 2016, more children will be exposed to lead poisoning and families will have to decide between protecting their health or losing their housing. The current lead contaminant standards are set so high that studies show 85% of homes resulted in lead poisoning despite passing inspection. The Lead-Safe Housing for Kids Act will identify lead hazards before a child moves in, make sure that the definitions are aligned with the prevailing science, and allow families living in toxic homes to move if they so choose.2 Sponsored by Senators Durbin (IL) and Menendez (NJ) and Representatives Ellison (MN), Quigley (IL), Lawrence (PA), and Kildee (MI), the bill promises to hold HUD and other federal agencies to comprehensive lead poisoning prevention standards while protecting the most vulnerable families from lead poisoning.3 Predominantly poor and Black communities remain disproportionately at risk for lead poisoning in cities around the country.4 This bill represents the long overdue solution to a widespread problem that has endangered far too many lives.
Black communities can't wait on protection from lead poisoning.
Unfortunately, the current Congress is one of the most ineffective in U.S. history.5 Families and children living in public or federally assisted housing are in peril, and with every moment the risk of lifelong harm grows. Black communities cannot wait on piecemeal policy to address issues like lead poisoning, which cause irrevocable damage and diminish potential to live full, healthy lives. HUD, the primary agency for overseeing the safety and quality of the housing funded with federal dollars, done their best to address the lead poisoning epidemic. We need decisive policy like the Lead-Safe Housing for Kids Act of 2016 to bridge the gaps and close the loopholes in current policy. When we spoke out on HUD's inaction, they listened. Now we need to do the same and demand that Congress do their jobs in protecting the health and safety of the most vulnerable and marginalized families.
Will you stand with us to ensure that decision-makers hear the voices of those most at risk of lead poisoning?
Until justice is real,
–Brandi, Rashad, Arisha, Bernard, Evan, and the rest of the ColorOfChange team
References:
1. "H.R.4694 – Lead-Safe Housing for Kids Act of 2016." Congress.gov, 03-04-2016.https://act.colorofchange.org/go/6240?t=7&akid=5738.1174326.sat8HF
2. "Durbin, Quigley target lead hazards in Section 8 housing with new bill." The Chicago Tribune, 03-03-2016. http://act.colorofchange.org/go/6241?t=9&akid=5738.1174326.sat8HF
3. "Reps. Ellison and Quigley Introduce Lead-Safe Housing for Kids Act." Press release, office of Representative Keith Ellison, 03-08-2016. https://act.colorofchange.org/go/6242?t=11&akid=5738.1174326.sat8HF
4. "Chicago lead poisoning rates vary by location, time." The Chicago Tribune, 05-01-2015. http://act.colorofchange.org/go/6243?t=13&akid=5738.1174326.sat8HF
5. "The 113th Congress is historically good at not passing bills." The Washington Post, 07-09-2014. https://act.colorofchange.org/go/6244?t=15&akid=5738.1174326.sat8HF