Cops think they can get away with murder!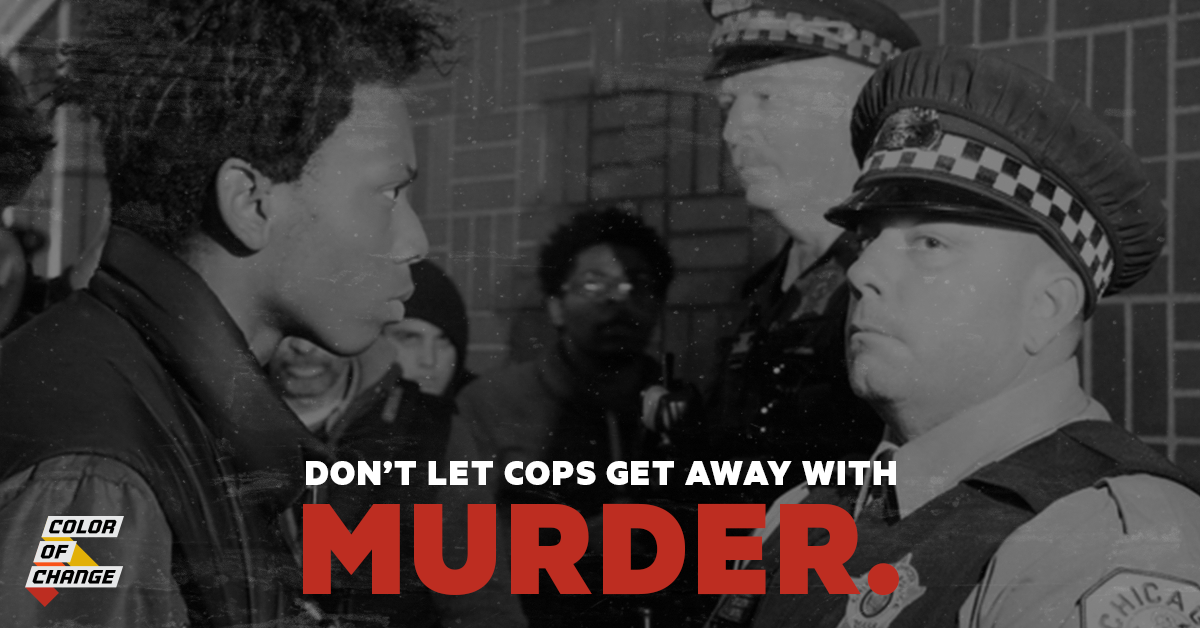 The Chicago City Council must end police contracts that protect bad cops.
Last week was a devasting moment for our communities with THREE painful not guilty verdicts in the murders of Philando Castile, Samuel Dubose and Sylville Smith. The horrible reality is that cops can kill Black people and get away with it. One major way to fight back against that is to stop the stronghold of police unions. In FOUR days, the employment contract for Chicago police officers is set to expire.  It gives us a huge opportunity — standing together, we can ensure that the City of Chicago refuses any new contract that puts police officers above the law.
Police unions like Chicago's Fraternal Order of Police (FOP) use their contracts to prevent any accountability for officers who prey on our communities, as we saw with the killing of Laquan McDonald and the coverup that followed, and in similar cases in Chicago and around the country. But we have a chance to demand better, and if enough of us speak out, we'll win.
We have only a few days. Join us NOW in calling on members of the Chicago City Council to reject any contract that puts police above the law.
Why do cops keep getting away with murder? One of the biggest obstacles to accountability are the employment contracts negotiated by police unions that help cops lie and cover up their crimes, essentially putting them above the law.
These contracts require a "cooling off" period before cops have to give a statement to investigators, giving them time to construct a story and coordinate it with other officers. If they're caught in a lie, they're allowed to "revise" their statements without consequences. Even when prosecutors are serious about holding police accountable, these rules in their contracts make it very hard to build a case against cops who break the law.
Police unions have made sure these outrageous contracts are the status quo in most places. But right now in Chicago, we have a big opportunity to challenge the power of the police union and change the rules.
The city is in contract negotiations with the Fraternal Order of Police, whose contract expires June 30th. The city council will need to approve any agreement reached between the FOP and the city, and a big part of the council (including the entire Black caucus) has already committed to vote against any new contract that continues to put police above the law – thanks to incredible organizing work from the BlackRoots Alliance and other groups in Chicago.
Now, we need to increase the pressure on the rest of the council to make sure we have the votes to block any contract that doesn't contain key reforms that will prevent police from operating with impunity.
Tell Chicago city council members to oppose any new contract that puts police above the law.
Until justice is real,
Rashad, Arisha, Scott, Anay, Clarise, Enchanta, Malaya, Katrese, and the rest of the Color Of Change team
References:
1. "Fraternal Order of Police: Is the tail wagging the dog?," Chicago Defender, 06-01-2016 https://act.colorofchange.org/go/8090?t=9&akid=7652.1174326.xmywLJ