Discover is funding white supremacist groups similar to the one that gave Florida school shooter Nikolas Cruz weapons training.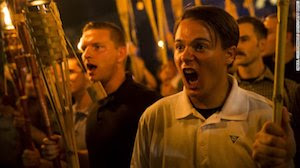 Demand Discover take immediate action and cut off hate groups from their financial service platforms.
Dear Friends.
What happened in Parkland, FL was an act of terror. As we watched in horror and heartbreak at yet another school shooting, those feelings were magnified when it was revealed the culprit was a member of a white supremacist organization.1
These groups are emboldened. From Charlottesville, to the Trump administration's slashing of federal funding to groups fighting right-wing violence, hate groups have gotten more extreme and more violent.2 We know from the murders at Emanuel AME Church to the murder of Heather Heyer and now the the murder of 17 high school students on Valentine's Day that these aren't one off events but part of a larger trend of white supremacist violence that companies like Discover are complicit in.
Through Discover's online financial service platform, at least 85 hate groups are able to accept donations and generate revenues that are used to fund their activities. Everything from their websites, to recruitment events, to buying weapons for the members can be done because of the easy access to funds companies like Discover are providing them. But together, we have the power to get Discover to cut these groups of for good.
As you probably already know from our Blood Money campaign last year, these groups are able to build websites, recruit new members, hold weapons trainings and send their members to violent rallies like "Unite the Right" all because they can accept payments with the help of corporations and online platforms, like Discover.
Last year, you joined with us to get corporations like PayPal, Visa, MasterCard, and American Express to cut off a number of violent and dangerous hate groups. But Discover refused to act, and now the pressure is mounting on them.3 These hate groups cannot be allowed to continue to grow and wreak terror over our communities. Discover should not be profiting from and enabling hate groups.
The violence driven by these hate groups in the last couple of years has been striking, with a steady increase in violence each of the last two years.4 Last year alone saw a doubling of the number of murders carried out by white supremacists.5 And since 2014, members of the alt-right have murdered or injured 110 people.6 These numbers are tragic and fail to capture the volume of terror they are causing in marginalized communities around the country.
Tech and finance companies like Discover have a responsibility to ensure that their platforms are not used to elevate, normalize, or fund voices that enable or encourage this kind of violence and discrimination.
Until justice is real,
–Evan, Rashad, Arisha, Brandi, Johnny, Jade, Future, Corina, Chad, Mary, Saréya, Eesha, and the rest of the Color Of Change team
References:
1. "Accused Parkland Shooter Nikolas Cruz Was a Member of White Supremacist Group," Time, 15 February 2018 http://act.colorofchange.org/go/20582?t=8&akid=9253%2E1174326%2Elx5yKu
2. "Trump cuts funds to fight anti-right wing violence," The Hill, 14 August 2018 http://act.colorofchange.org/go/20591?t=10&akid=9253%2E1174326%2Elx5yKu
3. "Blood Money," Color Of Change, https://act.colorofchange.org/go/20592?t=12&akid=9253%2E1174326%2Elx5yKu
4. "FBI: US hate crimes rise for second straight year," BBC, 13 November 2017 http://act.colorofchange.org/go/20593?t=14&akid=9253%2E1174326%2Elx5yKu
5. "ADL Report: White Supremacist Murders More Than Doubled in 2017," Anti-Defamation League, 17 January 2018 https://act.colorofchange.org/go/20594?t=16&akid=9253%2E1174326%2Elx5yKu
6. "The Alt-Right is Killing People," Southern Poverty Law Center, 05 February 2018 https://act.colorofchange.org/go/20595?t=18&akid=9253%2E1174326%2Elx5yKu